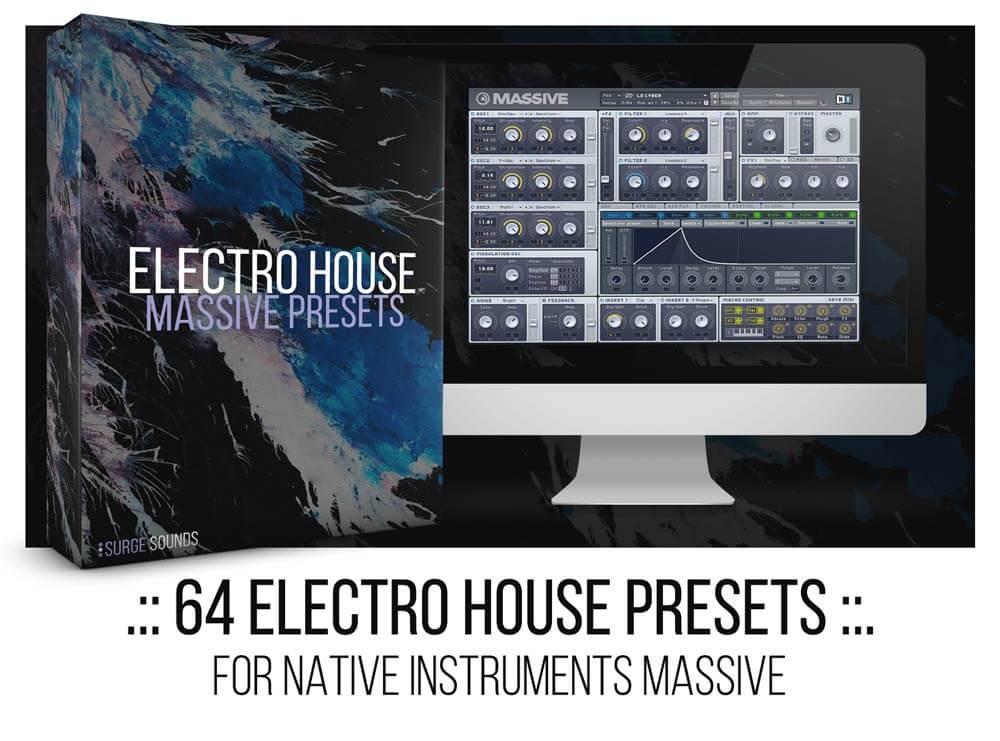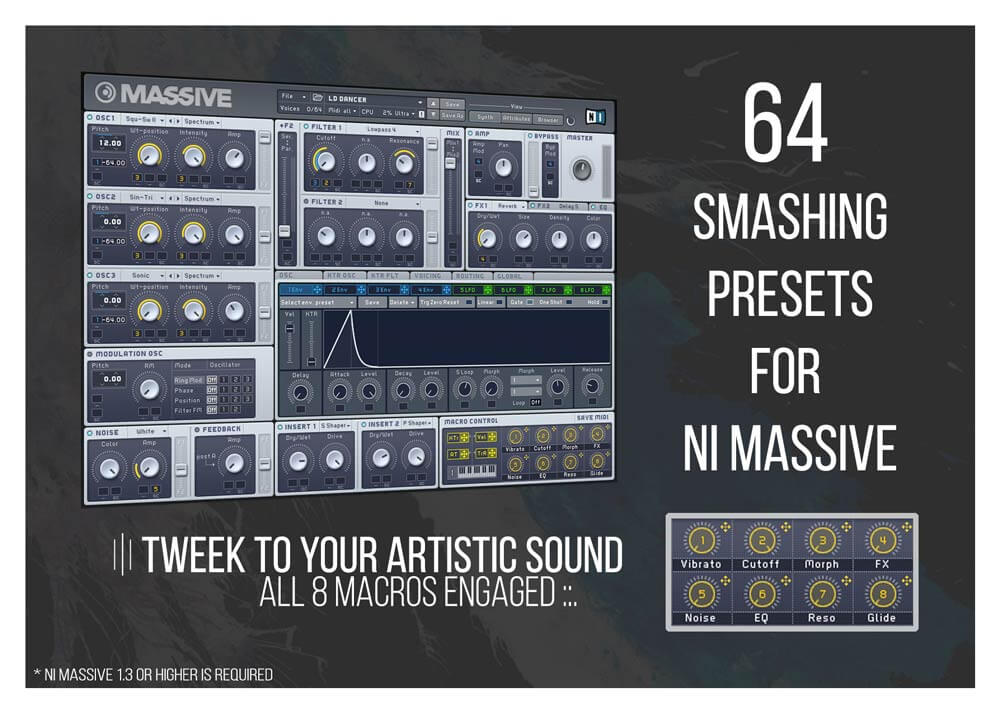 Ultra powerful presets
'Surge Sounds Electro House' gives you top quality presets for
NI Massive crafted from the most current chart-topping trends.
This collection provides 64 dance-floor-shaking basses, sick leads
and incredible synths specifically designed for all Electro House producers.
If you are looking for an ultra fresh and powerful sound bank for your
next Electro House smash hit, this pack is just for you!
HERE'S EXACTLY WHAT YOU'RE GOING TO GAIN.

64 NI Massive Presets
21 Leads
19 Basses
15 Synths
9 Plucks
——————————
8 Macros on every preset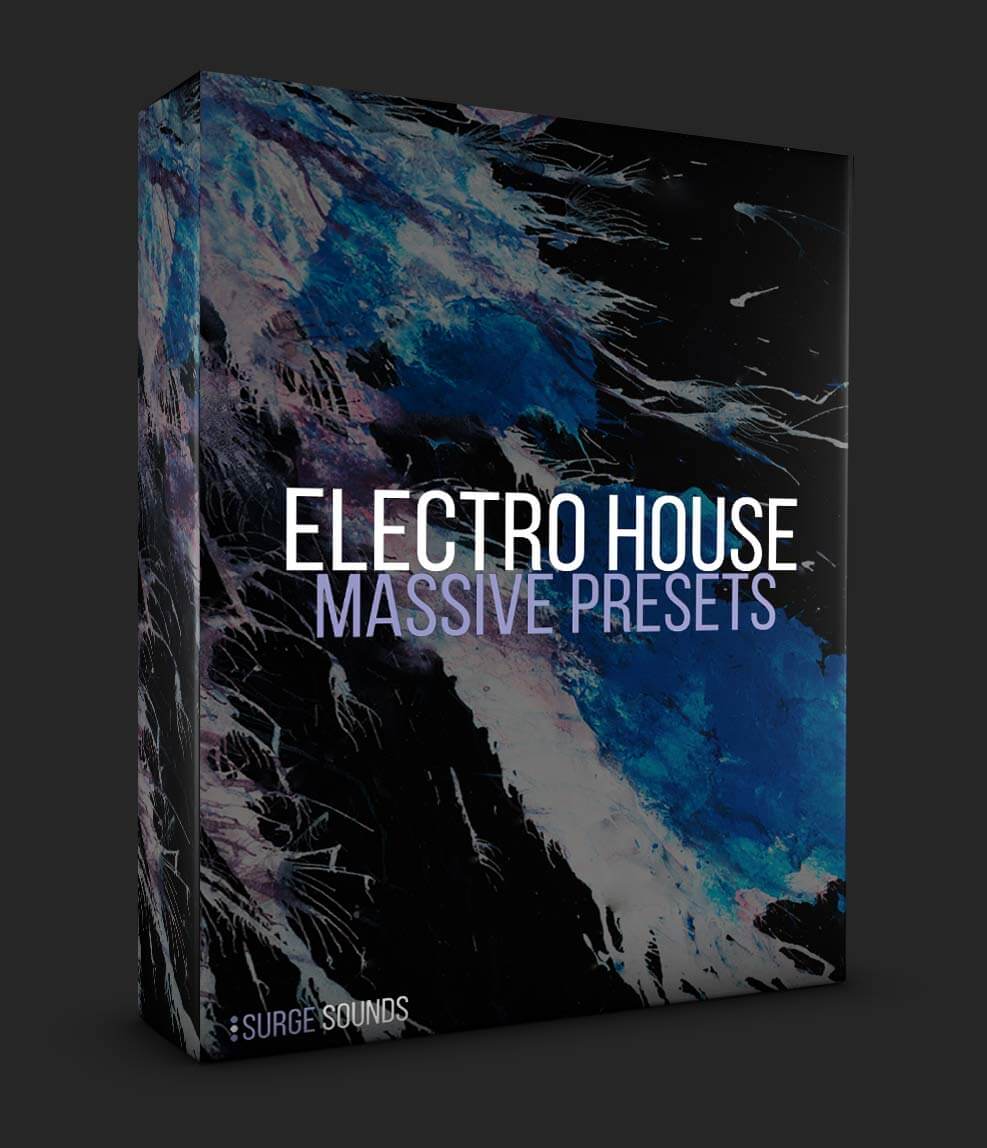 Start producing powerful tunes with these cutting edge sounds!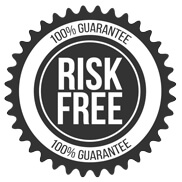 DON'T LOVE IT? 100% FULL REFUND.
14 day guarantee on all full products and bundles.
If you aren't completely satisfied for a valid reason, we will give you a full refund within 14 days of your purchase.
Grateful to have so many producers loving our sounds

Awesome sounds! great pack, love it. sounds are great, samples are premium – Nathan P.Verified Buyer Review on ADSR Sounds for Surge Sounds | Future Bass Serum & Massive

Sick! Cool stuff. Mix multiple presets for some even nicer sounds – Andre H.Verified Buyer Review on ADSR Sounds for Surge Sounds | Future House 2

Dope. The presets are flawless. Got this months ago and still loving it! I took my EP to the next level with this and got it signed. – Ralph B.Verified Buyer Review on ADSR Sounds for Surge Sounds | Future Bass 4

Definitely get this pack. I got this pack a few days ago and have had nothing but a great time with it. So many great sounds, everything is super warm and usable right out the gate. I've also been using this pack to learn more about Serum in general and how to manipulate the synth. – Anthony S.Verified Buyer Review on ADSR Sounds for Surge Sounds | Future Bass Serum & Massive

Fantastic! Every single one of these presets is so well made! Not only do they sound very professional, and sound good when layered together unlike most presets which just sound pleasing on their own, every one of them really has a nice sound and unique feel, with of course a ton of options with lots of built in modifications (eight on each) and whatnot to make it how you'd like it. Truly a fantastic pack! Great for anybody who loves Future Bass! A must buy. – Morgan L.Verified Buyer Review on ADSR Sounds for Surge Sounds | Future Bass 3

Dope sounds. High quality patches, dope basses – Doug E.Verified Buyer Review on ADSR Sounds for Surge Sounds | Bass House

This is amazing. I don't have Serum, so I don't know how those presets sound, but the ones for Massive are perfect for future bass type music. The drum kits are a nice bonus too. They slap hard! I would definitely recommend this product to other producers. – Lorenzo M.Verified Buyer Review on ADSR Sounds for Surge Sounds | Future Bass Serum & Massive

Amazing product! Great sounds! Good variety of sounds! Organized well and very creative! A must have pack!! – Darren S.Verified Buyer Review on ADSR Sounds for Surge Sounds | Future Bass 4

Huge sounds. I dig the leads & basses. It has taken my productions to the next level. – Noah W.Verified Buyer Review on ADSR Sounds for Surge Sounds | Progressive House 3

An excellent choice. I'm not a fan of this style of music at all and new nothing about it until I had to compose some tropical house tracks for work. This preset pack gave me most of the tools I needed to complete my project. – Hugo L.Verified Buyer Review on Synthmob for Surge Sounds | Tropical House 2

1st expansion pack. I recently bought my 1st expansion pack for Massive and Im absolutely loving it! Used the presets in there for my leads. Would recommend it! – Bang Y.Verified Buyer Review on ADSR Sounds for Surge Sounds | Electro House

Good stuff. There are plenty of top-notch sounds to use in this pack. Well done. – Brad D.Verified Buyer Review on ADSR Sounds for Surge Sounds | Future Bass Serum & Massive

10/10 Far exceeded my expectations. – Michael R.Verified Buyer Review on ADSR Sounds for Surge Sounds | Future Bass 4

Loved this pack, very dynamic . Great massive presets – aaron c.Verified Buyer Review on ADSR Sounds for Surge Sounds | Future Bass Serum & Massive

Five stars. I love all the sounds. This pack is legit! – Joe M.Verified Buyer Review on ADSR Sounds for Surge Sounds | Future Bass 3

Love it! I love the expansion. I am also looking for a brutal dubstep expansion maybe. Any ideas? Also when I'm going through the presets in serum it makes ableton crash. Any idea why? It didn't do it in the demo – Drew D.Verified Buyer Review on ADSR Sounds for Surge Sounds | Future Bass Serum & Massive

Hux. A great mix of contemporary sounds for the genre, lots of great macros in massive for changing it up – Matt H.Verified Buyer Review on ADSR Sounds for Surge Sounds | Future Bass 4

THE BEST Simply amazing! – George M.Verified Buyer Review on ADSR Sounds for Surge Sounds | Future Bass Serum & Massive

It's lit – Robbie P.Verified Buyer Review on ADSR Sounds for Surge Sounds | Deep House for Serum

amazing sounds! They are very good compared to other presets that you can find. – charlie m.Verified Buyer Review on ADSR Sounds for Surge Sounds | Future House 2

High quality patches. Sounds are stunning..already made something great with them – Dean W.Verified Buyer Review on ADSR Sounds for Surge Sounds | Future Bass 4

Really great. Lots of good sounds in here. Exactly what I was looking for! – Adam P.Verified Buyer Review on ADSR Sounds for Surge Sounds | Future Bass 3

A solid pack. This pack has some great sounds, as advertised in the demo. I would definitely recommend. – Jean-Luc M.Verified Buyer Review on ADSR Sounds for Surge Sounds | Electro House

Solid sounds. the basses cover this style perfect, definitely recommend! – James R.Verified Buyer Review on ADSR Sounds for Surge Sounds | Bass House

Phenomenal definitely one of the best ! – Evan R.Verified Buyer Review on ADSR Sounds for Surge Sounds | Future Bass 4

Great presets! A lot of fun to play with! – Rick H.Verified Buyer Review on ADSR Sounds for Surge Sounds | Future Bass Serum & Massive

Sick presets! As advertised in the demo, sick presets! – Michael W.Verified Buyer Review on ADSR Sounds for Surge Sounds | Future House 2

my go to sounds! great presets, immediately inspiring! – owen c.Verified Buyer Review on ADSR Sounds for Surge Sounds | Future Bass 2

Dope. The sounds are so clean and flawless – nick s.Verified Buyer Review on Synthmob for Surge Sounds | Future Bass 4

Great presets. really liked this sound pack – Tim B.Verified Buyer Review on ADSR Sounds for Surge Sounds | Future House

all good – darryn r.Verified Buyer Review on ADSR Sounds for Surge Sounds | Deep House for Serum

Great presets in here. Amazing sounds, amazing value. – Shawn A.Verified Buyer Review on ADSR Sounds for Surge Sounds | Future Bass 4

Wow!! This pack worked perfect in my latest track! – Derek R.Verified Buyer Review on ADSR Sounds for Surge Sounds | Future House 2

Good Pack. Has lots of nice leads – Etienne B.Verified Buyer Review on ADSR Sounds for Surge Sounds | Electro House 2

Brilliant! Amazing sounds, I recommend it! – Daniel K.Verified Buyer Review on ADSR Sounds for Surge Sounds | Future Bass 3

Just what I needed. This is good. Definitely worth the price – Marcus P.Verified Buyer Review on ADSR Sounds for Surge Sounds | Future Bass 4

i recommend it, i was loking for good sounds for my productions … so i got it here … everything is fine. – javier b.Verified Buyer Review on ADSR Sounds for Surge Sounds | Tropical House

Perfect ! – poudat a.Verified Buyer Review on ADSR Sounds for Surge Sounds | Future Bass Serum & Massive

Great Pack! Awesome basses in this pack. – Jared R.Verified Buyer Review on ADSR Sounds for Surge Sounds | Future Bass 2

Awesome presets! This sound pack is exactly what I wanted – David C.Verified Buyer Review on ADSR Sounds for Surge Sounds | Future House 2

dopeness – Jonathan D.Verified Buyer Review on ADSR Sounds for Surge Sounds | Future Bass 4

nice staff. I have already used some pieces in my music program. luv it! – Lamb Q.Verified Buyer Review on ADSR Sounds for Surge Sounds | Tropical House 3

BEST. Best Sounds for any kind of Bass music! Love them! – Lewis A.Verified Buyer Review on ADSR Sounds for Surge Sounds | Deep House

Good pack. Pretty good pack would reccomend, comes with plenty of sounds, exactly what is described. Some of the sounds are extremely similar but overall great product – Daniel W.Verified Buyer Review on ADSR Sounds for Surge Sounds | Bass House

Cool pack! This is pure gold! – Alex L.Verified Buyer Review on ADSR Sounds for Surge Sounds | Future Bass Serum & Massive

GREAT! Gorgeous sounds with awesome macros – Bruce P.Verified Buyer Review on ADSR Sounds for Surge Sounds | Future Bass 4

good. worth the money – nzech e.Verified Buyer Review on ADSR Sounds for Surge Sounds | Tropical House 2

good. This package is very good and high quality! – Hayato T.Verified Buyer Review on ADSR Sounds for Surge Sounds | Progressive House

Wow. excellent preset pack, great service – Tim B.Verified Buyer Review on ADSR Sounds for Surge Sounds | Tropical House